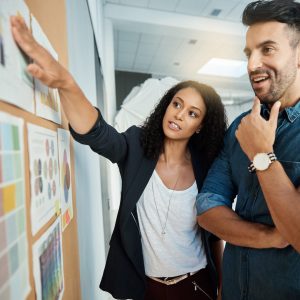 Procedure for the introduction of the LkSG (english)
The aim of this workshop is to provide an overview of the requirements of the German Supply Chain Act (LkSG) and what this means for your organization and process landscape. On the other hand, based on the basics of supplier management, we will teach you how to successfully implement it in practice in your company.
The LkSG
Legal basis and scope
Integration into the company's sustainability strategy
Consequences of violations 
Defined duties of care
Human rights due diligence
Environmental duties and prohibitions
Essential content of the LkSG
Establishment of a risk management system (§ 4 Paragraph 1)
Definition of an internal responsibility (§ 4 Paragraph 3)
Performance of regular risk analyses (§ 5)
Issuance of a policy statement (§ 6 Paragraph 2)
Establishing preventive measures within the company's own business unit (§ 6 Paragraphs 1 and 3 and vis-à-vis direct suppliers (§ 6 Paragraph 4)
Taking corrective action (§ 7 Paragraphs 1 to 3)
Establishment of a complaints procedure (§ 8)
Implementing risk due diligence procedures with indirect suppliers (§ 9); and
Documentation (§ 10 (1)) and reporting (§ 10 (2)).
Impact on the company
Duty or voluntary
Compliance or competitive advantage
Corporate resilience
Supplier Management
Basics of supplier management
Supplier audit
Practical thematic implementation of the LkSG
Establishment or expansion of risk management
Introduction of the human rights officer
Planning and implementation of a risk analysis
Preparation of the policy statement
Definition of preventive and remedial measures
Introduction or expansion of complaints management
Preparation and publication of report
Practical methodical implementation
Project planning, implementation and performance review
Stakeholder discourse
External and internal communication
Digital support
Requirements for an IT-supported LkSG tool
Introduction of an IT-supported LkSG tool
Interfaces to DIN ISO systems
Environmental protection (DIN ISO-14001)
Occupational safety (DIN ISO-45001)
Quality Management (DIN ISO-9001)
Human & labor rights (DIN ISO-26000)
Target Audience:
Managers along the supply chains
Employees from purchasing departments
Sustainability officers
Compliance officers
Human rights officers
Delivery Method:
Lecture
Work in groups
Discussion
Price per Person for Open Workshops:
* The maximum number of participants is limited to 12 people.
For English online open workshops, or online/face-to-face workshops in in-house format please contact me directly.