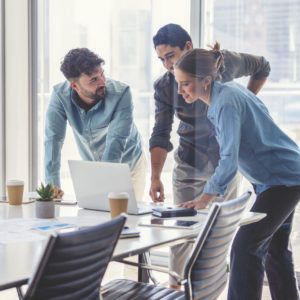 Workshop Sustainable IT (english)
The goal of the workshop is to introduce the participants to the topic of sustainability in IT so that they can identify and address the main sustainability factors in IT (hardware, software and services) and to develop initial solutions.
Another focus is energy efficiency in IT. The IT staff will receive an overview of the essential factors of energy-efficient IT in order to then identify, prioritize and execute suitable measures for reducing the energy requirement and thus also the cost and CO2 load. The focus is on the combination of hardware, software, infrastructure, and operation, because an optimized interaction of these components can achieve an increased energy, cost, and environmental balance.
Foundations of sustainability
Legal requirements and guidelines
Sustainability reporting
Sustainability topics in IT
IT sustainability strategy
Double materiality
KPIs and metrics
Costs and benefits
Sustainability organizational structure in IT
The connection and dependency between corporate and IT sustainability
Sustainability in the IT organizational structure
Roles and Responsibilities
Challenges of a sustainable IT
Energy consumption and CO2 emissions
Green Sourcing
E-Waste
Data Protection
DEI
IT components and their energy demand
Hardware
Software
Operations (Processes)
Further Infrastructure
Methods for determining the energy requirements
Energie efficient solutions
Hardware components
Software development and usage
Architectures
Energy efficient operations
Best Practices, organisations and guidelines
DIN ISO 50 0001
DIN ISO 26 000
Energy efficiency implementation
Identification of suitable measures
Prioritization and goal setting
Project planning
Integration and communication with stakeholders 
Implementation challenges and resolution approaches
Strategic obstacles

Competing or imprecisely defined sustainability goals
Unrealistic expectations

Organisational obstacles

Departmental thinking (Silos)
Insufficient resources and budget
Lack of skills and knowledge

Obstacles to execution

Lack of stakeholder commitment and support
Resistance of Change
Poor availability of data and measurement systems
Use of inappropriate execution methods
Communication
Methods
System Thinking
Problem Identification and resolution
Sustainable Project Management
Target Audience:
IT managers and leaders
IT staff (Hardware, Software, Services, Operations)
IT procurement
Prerequisites:
Basic knowledge of IT components and processes
Delivery Methods:
Lecture
Work in groups
Discussion
* The maximum number of participants is limited to 12 people.
If you would like to book the workshop in in-house format – online or face-to-face – please contact me.