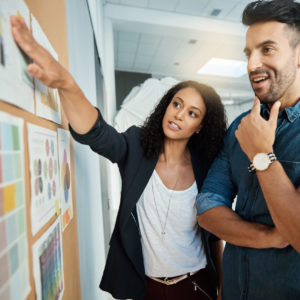 Workshop Sustainable Business Development (english)
The purpose of the workshop is to raise awareness of the topic of sustainability among all participants in the business development process, from design, portfolio management, marketing, and sales-oriented functions (channel, alliances, direct sales), in order for them to create sustainable business development structures within their organizations and successfully plan and carry out joint sustainable business development initiatives. The development of sustainability goals, metrics, and their integration into business development processes can lead to an increase in sustainability in the relevant sales channels.
This workshop will continue to put participants in a position to recognize and expand upon the already sustainable components of the product and service portfolio. Another option is to incorporate these sustainability aspects into the existing value propositions or create new ones, and then create customized incentive and advertising campaigns for the various sales channels.
Another focus of this workshop is the development of solutions to overcome obstacles that can arise when implementing sustainability in Business Development.
Foundations of sustainability
Legal requirements and guidelines
Sustainability reporting
Sustainability topics in Business Development
IT sustainability strategy
Double materiality
KPIs and metrics
Costs and benefits
Best practices
Projects and Partnerships
Advantages and requirements for sustainable business development
For your own company
For the customers
For the distribution channels 
Sustainability organizational structure in Business Development
Sustainability in the Business Development Organizational Units
Roles and Responsibilities
Sustainability in the cross departmental business development processes
Business Development processes und interfaces
Existing and new KPIs
Metrics and methods
Sustainability in the product and service portfolio
Design & Development
Continuous Improvement Process
Sustainable portfolio management 
Sustainability in messaging
Target Audiences
Value Propositions
Branding
Promotion
Sustainability in the distribution channels
Routes-to-Market
Go-to-Market
Incentives
Integration in the sales process
Enablement
KPI and metrics
Implementation challenges and resolution approaches
Strategic obstacles

Competing or imprecisely defined sustainability goals
Unrealistic expectations

Organisational obstacles

Departmental thinking (Silos)
Insufficient resources and budget
Lack of skills and knowledge

Obstacles to execution

Lack of stakeholder commitment and support
Resistance of Change
Poor availability of data and measurement systems
Use of inappropriate execution methods
Communication
Methods
System Thinking
Design Thinking
Business Model Canvas
Target Audience:
Managers and employees from:
Product Development
Portfolio
Marketing
Business Development
Sales
Prerequisites:
Basic knowledge in Business Development
Delivery Methods:
Lecture
Work in groups
Discussion
* The maximum number of participants is limited to 12 people.
If you would like to book the workshop in in-house format – online or face-to-face – please contact me.