Reading time: 9 minutes
This blog post gives an example how static and dynamic process can jointly speed up execution while ensuring necessary consistency. Basically, it is the application of the SCRUM model to the end-to-end business development process.
In April 2021, my network invited me to an online session to share our experiences with business development during the COVID-19 pandemic. It was one of the first balmy evenings in spring, and honestly, I could imagine spending time outdoors as well. Networking is not about receiving only, it is giving and being surprised what will return to you, often unexpectedly. So, I was listening to the voices of the speakers, looking through the roof window of my home office. I enjoyed a beautiful sunset, painting the whole sky in yellow, red, and purple colors. Suddenly I heard the sentence "… all those useless processes slowing my work as a business developer down". And at once, the group had my full attention.
Processes as an obstacle for Business Development
I recalled a discussion with my friend Wolfgang a few weeks ago. Wolfgang, a business development director of a medium to large sized software company told me that his company had worked very successfully in the OEM business so far. After one year in the pandemic situation the main two OEM partners they do business with began to suffer because of shortages in their supply chains. Wolfgang recognized that he quickly had to pursue different RTMs (routes-to-market) quickly as well, to compensate the loss in the OEM business. He was told from his senior management, that he had to wait to identify new opportunities until the current business development plans had been revised. He had to follow the existing process; no exceptions allowed.
I brought my attention back to the current speaker, a participant called Bradley, who had a similar challenge. Susan, a young lady from the Netherlands, who recently joined a small software company as Director of Strategic Alliance, chimed into the discussion, describing exactly the opposite situation. She said that the business development activities in her company are depending on the network and the experience of their individual business developers. There is no alignment between the strategic business plans and their execution. She lets us know that the individual results were not too bad, however with that approach he is not able to scale the business.
Other participants described their experiences with the application of business development processes in their companies. It seems that no one so far has found the right balance between hindering and fostering substantial growth. And honestly, I shared similar experiences in my professional career.
I could not get this topic out of my mind during the following weeks. Whenever obstacles or ideas pop up in my mind repeatedly, I'm used to question the status quo.
Why do we need business development processes?
To achieve a defined goal, the most effective way has to be figured out. Processes are not the only way to do that, but they are an excellent tool for finding the right road. Processes can help determining the current position on the way to the desired destination. But, sometimes it is not obvious which way to take, especially when changes in the environment occur. It can become necessary to leave paved roads for a while and to walk through new and uncertain terrain. This requires flexible processes.
How can processes be flexible to changing market or customer requirements?
The graphical depiction of processes is either arrow symbols or cycles, describing the flow of phases like investigation, planning, implementation, execution and monitoring. This implies that each phase might be equally important at a certain point of time. – Are they? A further perception is that each previous phase has to be finished before the next kicks in. But, how to pursue when an urgent change in execution is needed and the phase is not finished? For example, do the steps of investigation and implementation have to be finished before you can enter the execution phase? Do not get me wrong. Consistency is important but working in a Grid environment requires more flexibility. Effective and efficient processes need to contain static as well as dynamic elements.
The software industry deals with delivering complex solutions at a fast pace in a constantly changing environment. To address these challenges the SCRUM model was developed. It is a lightweight framework, which helps organizations creating valuable solutions to solve complex problems through adaptive solutions.
The SRCUM model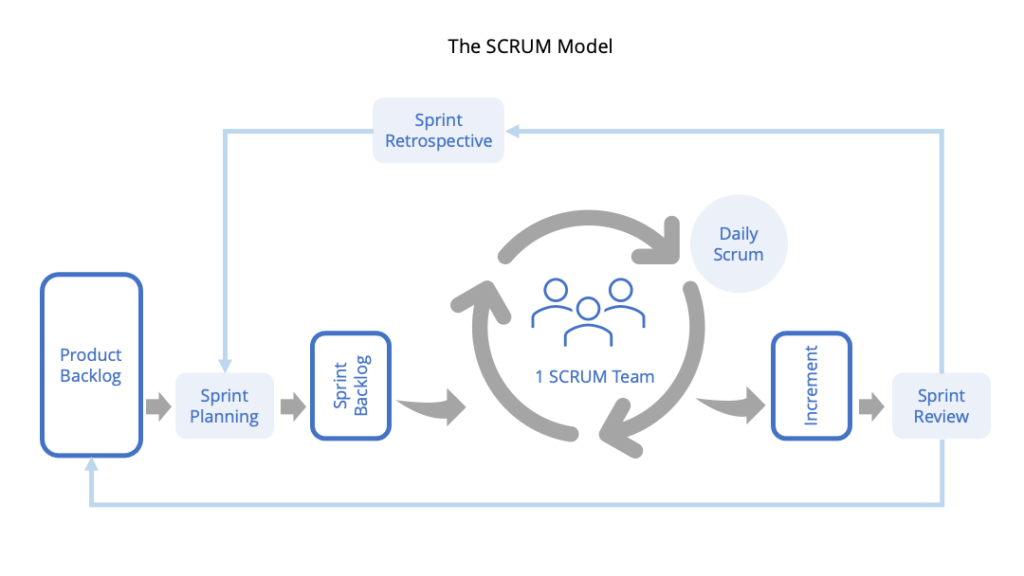 The SCRUM model in a nutshell:
The product owner puts the work orders for solving a complex problem into the Product Backlog
The scrum team turns a selected work order into an increment during a sprint
The scrum team and its stakeholders inspect the result and if ok, the team moves to the next sprint
Repeat the process
"Scrum implements the scientific method of empiricism. Scrum replaces a programmed algorithmic approach with a heuristic one, with respect for people and self-organization to deal with unpredictability and solving complex problems."

https://www.scrum.org/resources/what-is-scrum – 05/07/22
The scrum team is a small team of people. It consists of one Scrum Master, one Product owner and the developers, without any hierarchies between them.
More to learn on https://www.scrum.org/resources/what-is-scrum
How translate the SCRUM model into Agile Business Development processes
Let's start to lay out a generic business development process
A generic business development process
Analyze
Before the strategy can be developed, distinct aspects need to be evaluated first. External factors like the market, economy, industry, and competition need to be determined. Good models for that are the PESTLE analysis, Porter 5 Forces, etc. On the other hand, the internal capabilities could be figured out with the help of, BGC matrix, sales figures, segmentation plan, etc. Typically, the outcome of the analyze sub–process is the SWOT matrix, which compares the internal capabilities to respond to with external challenges and opportunities.
Plan
It is the document or repository which contains the strategy and execution planning. Particularly important is that both, strategy, and execution plan are aligned with each other. A good approach to ensure that is to create a VMOST. This plan or repository should contain the marketing plan, product roadmaps, market plans, stakeholder plans, etc. The VMOST focuses on the static sub–processes. It covers mid to long term aspects, which does not change on a weekly or monthly basis.
Implement
This is all about Stakeholders and their roles and responsibilities. It should cover job descriptions, organizational diagrams, cadences, enablement plans, sales and commission plans, partner programs, etc.
Execute
Fulfilling day-to-day jobs, like conducting partner, sales, and customer enablement, identifying opportunities at customers (directly or with partners), creating the pipeline for sales. Part of this process is the Partner Lifecycle Management with its five phases of identify-recruit-onboard-enable-grow.
Monitor
Any changes in the market, competition, economic situation, will trigger the static sub-process to be revisited, for example the planning or implementation phase, and make the necessary changes. The dynamic execution process has to be monitored as well. Triggers can be the decreasing pipeline, longer sales cycles, declining win rates, etc.
The Agile Business Development process
The SRUM model covers both, static and dynamic elements. The Product and Sprint Backlog can be seen as the static ones, the sprint itself is execution driven and refers to the repeatable dynamic part.
The Analyze, Plan and Implement are the static elements, whereby Execute is the dynamic piece of the overall process. The sub–process Monitoring is a continuous ongoing process, parallel to the static and dynamic sub–processes. Monitoring controls the outputs of the dynamic execution process, if the results are as planned and works as a trigger for the static sub–processes if changes occur like described above.
A great combination of short- and long-term success
The dynamic element 'execution' is important for creating immediate success, for example increasing the pipeline. It is about efficiency. The static elements are important for accelerating and scaling the business. It is all about effectiveness.
How to combine the dynamic and static processes?
By applying the underlying baseline of the SCRUM model to replace an algorithmic approach by a heuristic one,business development organizations can build a solid foundation for a scalable business.
In fact, this is a combination of Bradley's and Susan's different organizational business development approaches mentioned above. Bradley's team has a clear guidance where to find business, but it is restricted to the how. Let's take an example: Bradley's team should help to accelerate the cloud business. His team follows the guidance of focusing on the top 5 cloud providers. Other smaller players approached his business developers, asking for a joint business and go-to-market approach. However, those do not fit into current strategy, processes, and compensation models.
Bradley's senior management asked him to provide a business case to see how much those smaller players can contribute to a potential pipeline growth. If promising, the company would revise strategy and adopt process and compensation models for the next annual planning cycle.
In many cases smaller companies will not wait until larger vendors have set their strategy and execution plans, which can take months. Instead, they start collaborating with more flexible vendors to win the business.
This means that Bradley will lose potential business because his team is not allowed to execute beyond the current strategy. Susan will benefit from that in the short term winning joint business with smaller companies because his business developers have more flexibility and decision power. However, these one-off deals might limit her ability to scale because focus on strategy is lost.
So why don't use the static process as strategy and guidance and allow business developers more flexibility and empowerment in the execution process?
Where are the obstacles
Obstacles that need to be overcome
Senior Management fearing to lose control
Rigid compensation models forcing the execution focus, but hindering potential for additional growth
Strategic planning never covers all aspects and by far does not allow fastly needed changes
In the end, measurement drives execution.
Therefore, the unspectacular process of Monitoring gets more important. Companies have to find new or extend existing KPIs that support strategic direction (static processes) and immediate change when needed (dynamic processes).
Garbage in, garbage out
This sentence came up in the early 2000s with growing Business Intelligence activities. And still, it is so true.
You can only monitor KPIs if you have the necessary data input to do that. A common issue in many CRM systems is that there are fields missing, i.e. for a specific partner type, status field for a dedicated subprocess you want to measure, etc.
However, the biggest issue still is the quality of data. Firstly, we rely on human beings that information gets entered in the system and secondly, we rely on correct and/or updated information. Further on, privacy policies like GDPR do not allow that certain information is gathered, stored and used. Clear guidance and working instructions can improve data quality significantly. Even if that sounds very simple, it works.
Modern data analytic applications can help a lot to make best use of available data. But the truth remains, "garbage in, garbage out"! And if you focus on the dynamic processes only, i.e. Pipeline Identification or Opportunity Management, you get your garbage out even faster.
Implementing Agile Business Development Processes is a team sport
The end-to-end Agile Business Development process involves various functions in an organization. It starts from development, product management over marketing and ends with business development and sales.
The challenge is that those separate functional departments run their own processes, which in most cases are not connected and aligned with each other. The goal is not to change the existing processes in the departments. It is to define a joint overarching business development process and attach the appropriate departmental processes to it. So basically, each department is involved during the whole end-to-end process chain.
The RACI model is a perfect tool to define the roles and responsibilities.
The RACI acronym stands for:
R: Responsible. This person or team does the work of completing the process or task. Every task or process needs at last one responsible person or team. In some cases, it even can be more.
A: Accountable. This person or team might not always be the responsible part; however, it is the one that has to monitor the outcome and has to declare success. It only can be one team or person that is held accountable.
C: Consulted. These persons or teams are typically asked to provide input or to review the task
I: Informed. These persons or teams need to be kept in the loop, not in much detail but on the overall progress and the outcomes.
If needed, existing departmental processes can be extended, or additional measures can be introduced.
According to the principle of the RACI model, only one person or team can be held accountable for the outcomes of the Agile Business Development process. Depending on the size or setup of the organization, this can be a partner-ecosystem or alliance department if there is no dedicated business development function implemented. It is important that the accountable owner of the Agile Business Development process is empowered to execute across organizational boundaries.
Back to our example, the roles which identify business opportunities should be held accountable for the dynamic parts of the processes. Whereby the roles which define strategy and direction should be held accountable for the static parts of the processes.
Where to start?
Implementing an Agile Business Development process is an iterative approach. I suggest separating the implementation efforts of the static from dynamic sub-processes. Companies should start where they feel the most pain. Mike's organization can start with the static processes to ensure consistency, whereby Bradley can achieve higher flexibility by focusing on the dynamic part at first.